There will be a dayprogram with different talks, presentations and maybe even workshops. There will also be a short eveningprogram after dinner.
Walk-in from 10:00u. For the start of the workshops, see below.
Manatee
12:00-13:00 → Kelder Uitgeverij: Bookpresentation Social Ecology & politics
13:30-14:30 → Paper Jam Start your own distro
15:00-16:00 → Squatting Everywhere Kollective: bookpresentation
16:30-17:30 → Arrestantenboek: bookpresentation&workshop
17:30-18:00 → Spoons
Narwhal
12:00-13:00 → Vrije Bond: Introduction to Anarchism bookpresentation
13:30-14:30 → Steungroep 13 september
15:00-16:30 → Peter Storm: Bookpresentation Anarchism basic concepts and ideas
17:00-18:00 → Kick Out Zwarte Piet
Thekla Bookbinder
Every whole hour between 12:00 and 16:00: Bookbinding workshop!! People can walk in and participate for a small donation for the materials.
14:00: especially for kids bookbinding workshop! (children from 6 years and older)
Workshop Arrestee book
The Arresteebook
A small book has been written on the legal obstacles that one can experience during activism and on what your rights are in jail and prison. We also want to talk about what the arrestee support group is, and how you can set one up yourselves. It will therefore be quite practical with much room for asking questions.
This workshop will be in Dutch.
Bookpresentation Introduction to Anarchism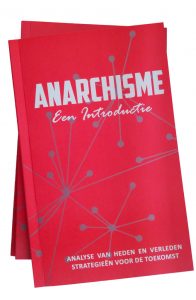 Bookpresentation: Anarchism – an introduction: analysis of the present and the past, strategies for the future
The book Anarchism – an introduction: analysis of the present and the past, strategies for the future is the first real publication of the Vrije Bond that has been published in the spring of 2018. This book will be presented during the Anarchist Bookfair Amsterdam. This presentation will give a short introduction into anarchism on the basis of this new book. We will discuss whether the principles of anarchism can provide us with concrete tools for changeing society.
This presentation will be in Dutch.
Bookpresentation Social ecology and politics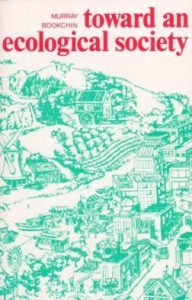 The American political philosopher Murray Bookchin (1921-2006) is one of the most important political thinkers of the twentieth century. Only a small part of his work is translated into Dutch. Eight translations of the most characteristic and influential articles by Murray are in this collection.
Bookchin outlines an innovative libertarian theory, in which his attention is focused on solving fundamental ecological, social, economic and political problems of modern time. He states that the main ecological problems, like climate change, depletion of resources and severe pollution, are a logical and direct consequence of the unlimited growth-trend of capitalist economy. Besides that, he states that the exploitation of nature directly parallels the exploitation of one human by another. In his book, Bookchin develops a new idea about 'social ecology' that is based in respect for nature and acknowledgement of the high complexity of natural processes.
He concludes that human society should be based on mutual collaboration and mutual aid. The 'social ecology' says that the modern human should strive for a non-hierarchical social, economic, and political system. On a political level, Bookchin pleas for decentralization, local government and organization 'on human scale'. The small-scale political community is the ideal form for humans to develop themselves as a politically active being. Citizens should be actively involved in political decision-making and should be able to influence policy.
Marius de Geus has written a clarifying introduction about the life and ideas of Murray Bookchin. In an accompanying article, Roger Jacobs elucidates how Bookchin's 'social ecology' is a foundation for 'democratic confederalism', which the Kurdish activist Abdullah Öcalan has worked out in his prison-writings. At this moment, people are making these on Bookchin inspired ideas practice in the Kurdish regions of Rojava and Bakur. The focus is on bottom-up decision-making and equality between males and females.
This presentation will be in Dutch.
Infotalk Support group 13 september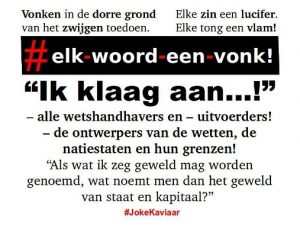 The prosecution of Joke Kaviaar: explanation and call out for solidarity
Around the end of the year, Joke Kaviaar, poet/performer, publicist and activist, will probably be in prison. She has to sit out her sentence of two and a half months. She was provisory sentenced for two months in prison because of publishing 'seditious' texts. After a different conviction for participating in an action in the municipality chambers of Zeist against the construction of Camp Zeist, that earlier sentence became absolute, also adding an additional two weeks. After the verdict during cassation, now announced to take place on the 18th of December, this sentencing will then probably be definitely absolute and will quickly be executed.
People from the Support group will shortly explain what this court case is about, and why your solidarity with Joke is necessary. They will also give suggestions on how to give this solidarity shape, how we can support Joke with letters and actions. They will explain how this solidarity also contributes to the struggle – against repression in general and freedom of movement for everyone.
Steungroep 13 september, https://13-september.nl/
Workshop Start your own distro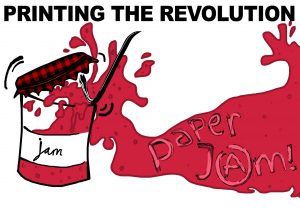 By: Paper Jam collective
Anarchist literature lives everywhere around us. Especially on festivals, social centres and book fairs texts are being discussed and exchanged. The Paper Jam collective sees a missed chance to spread these ideas outside of the big festivals and the direct influence of the alternative scene. That's why Paper Jam would like start supplying anarchist distro's! We would like to use the PL to come together and think of new ways of spreading texts. Would you like to help spread anarchist thought by setting upa distro? Come by during our talk!
This workshop will be in English or Dutch, depending on the crowd.
Bookpresentation Anarchism, an introduction

An introductory
talk about basic anarchist ideas and concepts by Peter Storm

Anarchism can mean all kinds of things to all kinds of people. But what does it mean to anarchists themselves? What are the basic ideas that most, if not all, anarchists hold in common? What is it that anarchists object to in present society, what is so wrong with it? What kind of society do anarchists aim for? And how do anarchists think we can go from here to there, from present society to freedom for all?
In this workshop, Peter Storm, anarchist writer, musician and activist, will try to introduce basic anarchist concepts, ideas, goals and methods. He will talk for quite a while, after which there is time for questions, discussion and meet'n'greet. The workshop is suitable for newcomers, but may also be a refreshment course for veterans and people returning to the movement
Peter will give his workshop eityher in Dutch or Eglish, depending on the needs and desires of those present. At the workshop, his new booklet "Anarchhism: Basci concepts and ideas" will be available.
Bookpresentation Fighting for our space, fighting for our lives: Squatting movements today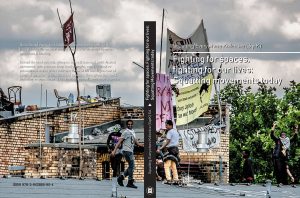 With this book, Squatting Everywhere Kollective (SqEK) aims to move beyond the conventional understandings of squatting, investigating its history in different places over the past four decades.
The collected essays, first-hand accounts and photographs in this book do not intend to offer an over-arching narrative of where the squatters movement is heading. Instead the book provides glimpses into a diverse and multi-faceted movement, with accounts from local struggles, experiences of repression and stories of collective forms of life which have grown out of squatted spaces in various cities and countries throughout the world, including accounts from Rio de Janeiro, Istanbul, Seattle and Australia.
Editors:
SqEK (squatting everywhere kollective) is a network of radical activists and researchers from diverse social and political movements around the world. The primary aim of the collective is to produce reliable and fine-grained knowledge about squatters´ movements as a public resource, especially for squatters and activists. SqEK holds yearly meetings which have thus far taken place in Madrid, Milano, London, Berlin, Barcelona, Amsterdam, Paris, København, Roma, New York, Rotterdam, Praha and Catania.
More info can be found at http://sqek.squat.net
The presentation will be held in English.
Peer-Support Groups as a Tool for Social Change
A growing number of people struggle to deal with the emotional demands of everyday life, and it is no surprise – anxiety and depression are normal reactions to an unjust and uncaring world. Although psychotherapy can help individuals, its reach ends there. To address the shortcomings of individual therapy and the medical model of mental illness, Spoons was established in the summer of 2018. Spoons is a grassroots peer-support group and learning space for emotional health, grounded in affinity and mutual aid. This talk will be about how and why the project was set up, give a sketch of what the sessions are like, and show how such groups can raise a critical consciousness about mental health and use vulnerability as a tool for collective empowerment. Finally, I'll give some tips on setting up a peer-support network in your area.
This talk will be in English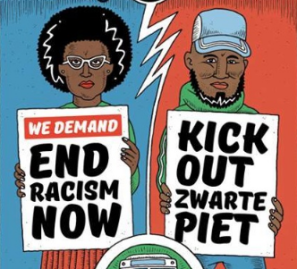 Kick Out Zwarte Piet
Kick Out Zwarte Piet will give an informative talk about the actions of the past years against the caricature "Zwarte Piet" or "Black Pete". "Zwarte Piet" is a racist caricature that stands in line with dehumanising everyone who is not white. In this talk, we will talk about the importance of this struggle within other forms of activism. Lastly, we will give an overview of all the actions happening this year at the coming of Sinterklaas, one week after the bookfair, so you can join us.